Bruce Lee (1940-1973)
Bruce Lee was born on November 27, 1940, at the Chinese Hospital, in San Francisco's Chinatown. According to the Chinese zodiac, Lee was born in both the hour and the year of the Dragon, which according to tradition is a strong and fortuitous omen.[16] Lee and his parents returned to Hong Kong when he was three months old.[17]

Bruce's father, Lee Hoi-chuen, (李海泉) was Han Chinese, and his mother, Grace Ho (何愛瑜), was of Eurasian ancestry.[18] Grace Ho was the adopted daughter of Ho Kom-tong (Ho Gumtong, 何甘棠) and the half-niece of Sir Robert Ho-tung, both notable Hong Kong businessmen and philanthropists.[19] Bruce was the fourth of five children: Phoebe Lee (李秋源), Agnes Lee (李秋鳳), Peter Lee (李忠琛), and Robert Lee (李振輝).
On May 10, 1973, Lee collapsed during an automated dialogue replacement session for Enter the Dragon at Golden Harvest in Hong Kong. Suffering from seizures and headaches, he was immediately rushed to Hong Kong Baptist Hospital where doctors diagnosed cerebral edema. They were able to reduce the swelling through the administration of mannitol. The headache and cerebral edema that occurred in his first collapse were later repeated on the day of his death.[88]

On July 20, 1973, Lee was in Hong Kong, to have dinner with actor George Lazenby, with whom he intended to make a film. According to Lee's wife Linda, Lee met producer Raymond Chow at 2 p.m. at home to discuss the making of the film Game of Death. They worked until 4 p.m. and then drove together to the home of Lee's colleague Betty Ting Pei, a Taiwanese actress. The three went over the script at Ting's home, and then Chow left to attend a dinner meeting.

Later Lee complained of a headache, and Ting gave him an analgesic, Equagesic, which contained both aspirin and the tranquilizer meprobamate. Around 7:30 p.m., he went to lie down for a nap. When Lee did not come for dinner, producer Raymond Chow came to the apartment, but was unable to wake Lee up. A doctor was summoned, who spent ten minutes attempting to revive Lee before sending him by ambulance to Queen Elizabeth Hospital. By the time the ambulance reached the hospital, he was dead. He died at age 32.
Alexander Fu Sheng (1954-1983)
 
life and death: "8 Diagram Pole Fighter" aka "Invincible Pole Fighter"  was his last film in which he never finished, beacuase of his untimely death before the film was done. Less than a month after the release of Fu Sheng's box office hit, HONG KONG PLAYBOYS (1983), tragedy was about to strike. It was an incident that would shake up Hong Kong cinema in a fashion that hadn't been experienced since the death of Bruce Lee a decade prior.


On Wednesday night, July 7th, 1983, Alexander Fu Sheng was traveling on the passenger side of his Porsche 911 driven by his third brother, Chang Zheng Sheng. Behind them in a Honda Civic was Fu Sheng's younger brother, Chang Chan Peng who was accompanied by close friend and fellow actor, Wong Yu. The four had just left Shaw's Clearwater Bay Country Club shortly after 10pm and were traveling along Clearwater Bay Road. At approximately 10:30pm Chang Zheng Sheng, the driver of the car, crashed into a concrete wall after taking the sharp turn too quickly. Reportedly, there was a group of people nearby that witnessed the accident.




According to reports, it was raining on this section of street at the point of impact, but nowhere else. The driver managed to exit the crumpled, bent and twisted metal of what remained of Fu Sheng's car. Fu's younger brother rushed to his elders aid who was alive and speaking at the time. He asked Chang if his face had scars from the crash. He then asked his brother to get him to the hospital as Fu's face began to turn black. An unconscious Fu Sheng was rushed to the hospital and his personal physician was called. Mona Fong was one of the many of Shaw's staff waiting nervously in the lobby in the hopes that Fu Sheng was going to be alright.




The seriously wounded actor was given an emergency blood transfusion in the hopes of reviving him. Doctors ultimately went through four pounds of blood. His internal injuries were so severe, he was losing blood more rapidly than they could get it into his system. Fu Sheng had a broken back and the horrible realization was that surgery was going to be impossible. He could not be saved. Into the early morning hours, Mona Fong and others heard a terrible, loud scream in Fu Sheng's hospital room. At 3:43am, one of the cinemas most treasured personalities had left this world. The man born Cheung Fu Sing was dead at 29 years of age.



When questioned by police, Chang Zheng Sheng stated he felt what seemed like Fu Sheng pushing his leg down onto the accelerator. Reportedly, the two cars were racing down the street despite their statements of not speeding. Chang also later said that once he had crawled from the wreckage, he could see Fu Sheng standing a distance away from the car as if his soul had left his body. In a bizarre occurrence, the Shaw Brothers production, HONG KONG '83, shooting at the time, featured a sequence of a car crash on the same stretch of road. In a cruel twist of fate, Fu's lucky number was '7'. The sad and shocking irony of all this is that the license plate on one of his car was '7717' and that he died on the seventh day of the seventh month in 1983.
Chiang Sheng (1951-1991)
In 1976, Chiang started work over in China, having already appeared in a few movies (but nothing major), he got a small part in the Sammo movie The Traitorous, before heading to Shaw Brothers to make an appearance in the movie Shaolin Temple. From 1976 – 178 he appeared in movies such as New Shaolin Boxers, Hand Of Death (Brief appearance), Magnificent Wanderers, The Brave Archer and the brilliant Invincible Shaolin. But 1978 was to be a great year, as he starred in the all time classic The Five Venoms, where he would forge a great working relationship with actors such as Sun Chien, Philip Kwok, Lo Meng and Lu Feng.
If you have seen these guys in action, all of them are superb at what they do, each bringing there own style to the movie and also the rest that they starred in together. Each film i have seen delivers great hand to hand combat, brilliant weapon work, lots of violence and comedy and you can tell they all sparkle with each other on screen.Regarding the Venom mob, movies i would recommend so far after viewing them would be The Five Venoms, Invincible Shaolin, Crippled Avengers, Magnificent Ruffians, Kid With The Golden Arm, 10 Tigers Of Kwangtung and 2 Champions Of Shaolin. There are a lot more movies which stars Chiang and his fellow Venom mob, so be sure to check them all out, you will not be disappointed.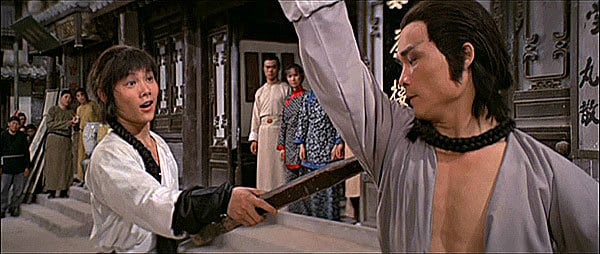 Life after the venom's 
In 1981, Chiang and the rest of the venoms disbanded with three of them, including Chiang starting a new production company in Taiwan. The first movie he and his fellow team made was Ninja in the Deadly Trap, which Chaing acted and choreographed the action scenes, Chiang shortly after wanted to go back to China, but his wife convinced him to stay put in Taiwan.
Not long after staying in Taiwan with his wife, Chiang found it very difficult, not being able to find work anywhere which led to him divorcing his wife and became a heavy drinker. In August 1991, an old friend of Chiang Sheng, Ricky Cheng Tien Chi, came to see him, but found him dead. It is said that he was lying dead for three days before being found. He died from a heart attack. But Kuo Chui once said "it was more of a broken heart".
It is so sad that his life went this way and led really to his death at such a young age of 40 years old. Chiang had so much talent and had so much more to give, in front and behind the camera. So if your already a fan of his work, go back and watch this very talent performer and keep his memory alive, but if you haven't seen this guys work before then your in for a right good treat.
Lo Lieh (1939-2002) 
Genre actors have had a bad weekend and this death hits KUNG FU fans hard. I first saw Lo Lieh, like most american kung fu fans in Five Fingers of Death at a Drive-in, annnnnd I followed his career eagerly for years after that flick which I saw many times... His Pai Mei character has been recently revived by Quentin Tarantino in his upcoming KILL BILL played by another great old school Kung Fu artist, Gordon Liu. 
November 3rd, 2002: Veteran actor Lo Lieh has died. He was 63. Born Wong Lap-Dat in 1939, Lo was a staple in old-school kung fu movies from the mid-1960s through to the mid-1980s. He appeared in such classic films as GOLDEN SWALLOW, EXECUTIONERS FROM SHAOLIN and MIRACLES.
In 1973, Lo's FIVE FINGERS OF DEATH (aka KING BOXER) became the first Hong Kong movie to make a splash at the American box office. Lo parlayed the recognition from that film into a role in the 1974 "Spaghetti-Western"-style movie THE STRANGER AND THE GUNFIGHTER. "Spaghetti-Western" legend Lee Van Cleef co-starred.
Lo died in Shenzhen on Saturday morning at around 10 am after suffering a heart attack. He was rushed to the hospital but was pronounced dead on arrival. Lo had reportedly been dealing with a heart condition for the past two years. Lo lived a turbulent life filled with ups-and-downs in business and in his personal life. He was married four times and leaves behind three children. His widow, his fourth and current wife, is twenty-three years old. She and Lo have a two-year old child from the marriage. Lo also has two sons from previous marriages. One of his wives, Tong Ka-Lai, is the older sister of director/producer Stanley Tong Kwai-Lai.
 Lau Kar Leung (1934-2013) 
Lau Kar-leung (28 July 1934 – 25 June 2013), also known as Liu Chia-liang, was a Hong Kong-based Chinese actor, filmmaker, choreographer and martial artist. Lau is best known for the films he made in the 1970s and 1980s for the Shaw Brothers Studio. One of his most famous works is The 36th Chamber of Shaolin which starred Gordon Liu, as well as Drunken Master II which starred Jackie Chan. Lau's most frequent collaborator is likely his "god brother" Gordon Liu a.k.a. Chia Hui Liu, and he worked with Liu on a number of films, directing him as a star in the now classic The 36th Chamber of Shaolin (1978), as well as directing Liu as either a star or cast member in Dirty Ho (1976), Eight-Diagram Pole Fighter (1983), Executioners from Shaolin (1977), Return to the 36th Chamber (1980), Heroes of the East (1978), Legendary Weapons of China (1982), Disciples of the 36th Chamber (1985), Tiger on Beat (1988), Tiger on the Beat 2 (1990), Shaolin Warrior (1980), Spiritual Boxer II (1979), Cat vs Rat (1982), The Lady is the Boss (1983), My Young Auntie (1981), Challenge of the Masters (1976), Shaolin Mantis (1978), The Martial Club (1981), and Drunken Monkey (2003). They also appeared together as themselves in the Italian documentary "Dragonland" (2009, directed by Lorenzo De Luca). Lau was the third child of Lau Cham (Lau Jaam, 劉湛), a martial arts master who studied Hung Gar under Lam Sai-wing, a student of Wong Fei-hung.[4] He has a brother who makes a living in the film industry, actor/choreographer Lau Kar-wing, as does Gordon Liu, Lau's pupil and adopted godson to Lau's father, Lau Cham. His nephew Lau Kar-yung (son of his older sister)is also an actor, choreographer and director. Another nephew, Lau Wing-kin (Lau Kar-wing's son) is also an actor, and assisted Lau Kar-leung with action-directing Seven Swords.

Lau's wife was Mary Jean Reimer, whom he married in 1984. One of Lau's former girlfriends is Kara Hui.[5]

Lau began training students Hung Gar before the age of 5 and was already quite proficient in the style. Bruce Lee treated Lau as an elder uncle and asked him for advice in regards to his film career.

Lau died on 25 June 2013 at Union Hospital, Hong Kong. He had been battling leukemia for two decades.
Sorry, there are no products in this collection